I first heard the term "tot school" from a friend of mine a few months ago.
In a nut shell, it's the idea of doing intentional activities with your child that are both fun and educational.
Sounds so simple, right?
My friend Kaitlyn over at
www.letstotschool.com
developed her own curriculum that kicked off this past week.
I love the idea of having themed weeks that help me focus on a particular topic with Jacob. I'm using her themes as a guide and finding 1-2 activities per day that Jacob and I can do together.
On a typical day Jacob and I usually get out of the house in the mornings, whether it's running errands or doing an activity geared towards him (like going to the park or story time at the library). We come home for lunch and then he goes down for a nap. It's always the afternoons that we struggle with, so we've now dedicated that time of the day to tot school.
I was a bit hesitatant about tot school at first because the last thing I wanted to do was create more work for myself. I'm 35 weeks pregnant and I don't want to spend a large chunk of my time preparing activities for Jacob.
Last week the theme was colors, and I was able to find some great activities for Jacob that required very little effort on my part.
If you follow me on Instagram (
@nicoleleeay
) you probably caught a glance of what we've been up to.
Here are some of our color themed activities from the week:
Color Matching Car Park
Jacob is obsessed with cars and trucks right now, so when I spotted this on Pinterest I knew we had to try it.
I gathered some of the cars we already had and a box from our Costco trip earlier that day.
In less than five minutes I glued down some construction paper that corresponded with the colors of his toy cars and bam, I had a nice little car park.
Like most 18 month olds Jacob has a short attention span, so I didn't have very high expectations.
We hadn't done any type of matching game before, so I was super curious to see how he would do.
He caught on really quickly and practiced putting the cars on the right colors a few times.
Once he had the hang of things his attention shifted and he began looking around the playroom for other toys, and the "car park" was soon flooded with farm animals and a train.
I'd say the activity was a success, and I can't wait to try other matching games with Jacob in the future.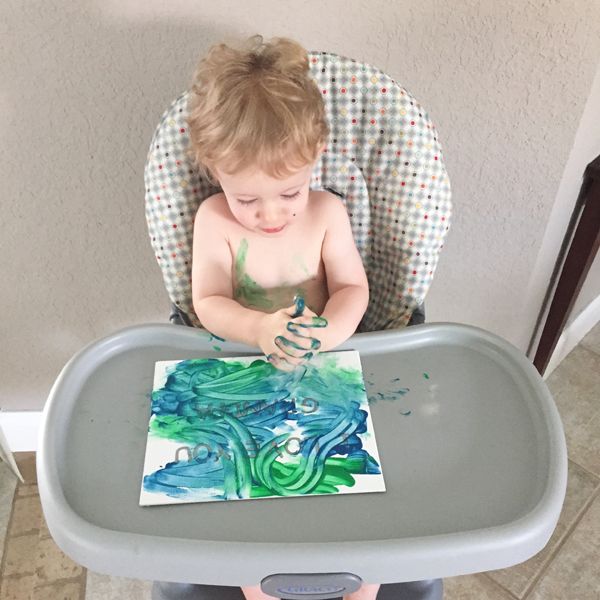 Finger Painting
Does this really even need a description? Washable paint and a toddler go mighty well together.
I personally don't trust my 18 month old with paint and my house, so I kept him contained to his high chair. I also took off his clothes so that I could just toss him in the tub afterwards. Once he started painting his chest I knew I had made the right choice.
High 5
I had high hopes for this activity, and was really curious to see if Jacob would catch on.
During nap time I traced my hand onto different colored construction paper. I taped it to the wall, and when Jacob woke up we practiced giving the paper hands "high fives." He LOVED giving the hands high fives. Once he understood that we were doing, I started calling out colors for him to high five.
He sort of caught on. By that I mean he listened to my directions for like 5 minutes. He was starting to hit the correct colors when he decided he was going to take the activity in a different direction, and began ripping the hands off the wall and tearing off the fingers.
Soon we had a massacre.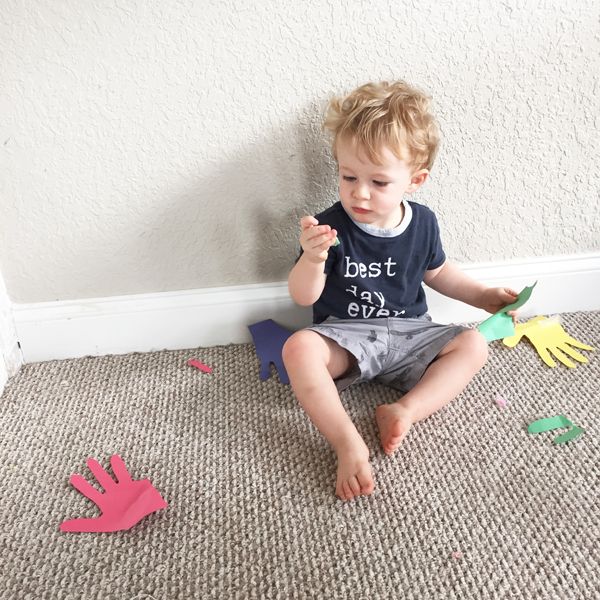 Maybe we'll try this activity again when he's a bit older? Or in more of a mood to cooperate?
Who knows.
I'm pretty happy with how our first week of "tot school" went and I loved having activities planned for us to do in the afternoon.
I've realized that with an 18 month old (almost 19 months, holy cow) you have to adjust your expectations. If an activity only holds his attention for five minutes thats ok, he's still getting more from it than if we hadn't done anything at all.
This upcoming week we are focusing on shapes, and I'm really excited about some of the activities I have planned
Be sure to follow me on
Instagram
to keep up with our weekly tot school adventures, and check out my
Pinterest
board for other tot school inspiration.
Sincerely,
Nicole Leeay